Homeowners cost guides to renovate a house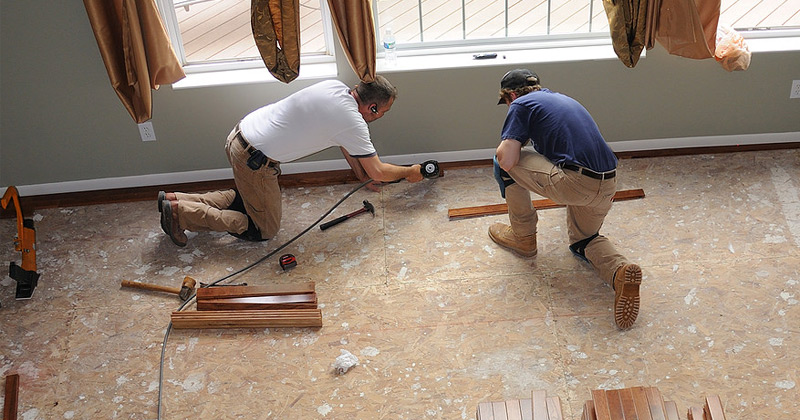 The average Homeowners cost guides to renovate a house is around
£4000 - £40000

There are no one-size-fits-all expense calculations regarding home construction prices. And two similar houses sitting side by side would have varying renovation prices, based on the nature of the renovation, the standard of the products used, the standard of the contractor and the craft, the amount of finishing needed, and the duration of time the renovation takes.

Remodelling costs also range from area to area, since labour costs maybe double or even triple in high-demand, low-supply industries.

However, the expense of house renovation operates within a specific limit, even allowing for these considerations. Here's how intending homeowners can predict how much it costs to renovate a house, and how to prevent unwelcome surprises in the centre of their home improvement ventures.

Planning the extent of the Renovation Process

Minor refurbishment of the kitchen, which you completed yourself, could cost less than £400. Building a massive new house could cost £400,000.

As a general rule of thumb, whether you take down walls or increase square feet, the construction project would be costly. Structural improvements and mechanical adjustments tend to be more expensive, whereas aesthetic changes appear to cost fewer.

Determining how to improve a house is part of the architecture, part of technology, and dependent on the anticipated return on investment (more on that soon). Here are some typical home remodelling projects, cost levels, and other factors to bear in mind when hiring a contractor.

Renovation of kitchen

Kitchen upgrades vary from small design changes to full gutting and replacement. Keep prices shorter by maintaining the same footprint, plumbing, and as many fixtures as necessary. You'd be amazed by what a fresh coat of paint and modern hardware can do to spruce up outdated cabinets. As a final comment on kitchens, inquire for quotations, except appliances. The more vendors order for you, the more space there is for them to the bill, so purchase all the equipment yourself, directly, and merely validate the contractor' measurement.

Minor kitchen makeup updates: £400 – £16,000

DIY full kitchen remodelling: £18,000 – £40,000

Full kitchen remodelling: £16,000 – £95,000.

Upgrade and changes to the bathroom

Bathroom upgrades may be as small as removing vanity or tiling, or as significant as constructing a new bathroom layout. If you're replacing pipes, anticipate prices to increase dramatically, while cosmetic improvements usually cost less.

Surface Upgrade/ cosmetic bathroom: £750 – £12,000

Total bathroom remodelling: £3,500 – £39,000

Fresh bathroom home addition: £35,000- £67,000

Paintings

Interior painting costs more per square foot for smaller jobs, and fewer for larger ones provided that most of the expense requires preparatory work.

The paint itself differs significantly by brand and finish, so do some online testing before you pick what you want. Only make sure it's conveniently accessible in your market by contacting nearby paint shops to inquire about what products they have at hand.

Project at least two colours: one for the trim and one for the walls. Many real estate owners often want a third hue, white flat for ceilings, regardless wall's colour.

Price per square foot: £1.3—£2.7

Flooring

Hardwood floors almost often cost better than carpeting. Where necessary, refining existing hardwood floors rather than removing them altogether to reduce money. Bear in mind that hardwood flooring cost differs wildly depending on the wood's sort, finish, and colour.

Hardwood floors: £2-10 per square foot for supplies, £2-8 per square foot for construction. Exotic hardwoods in the rainforest will cost more.

Carpet: £2-9 per square foot for supplies and installs.

Roofing

Replacing the roof is one of the most significant renovations that real estate developers (and tenants, for that matter) are doing.

The expense differs depending on the material and the grade and form of the roof. Have at least three or four quotations, confirm your roofer registration, and get a guarantee.

Asphalt: £95-300 per 100 square feet of land

Slate: £650-3,500 for every 100 square foot.

Terra Cotta Tile: £450-3,500 per 100 square foot.

Metal: £400-1,500 for every 100 square feet.

The Basement

Finished basements contribute to the building's existing square footage. Much better, certainly completed basements may be turned into separate living rooms and can be leased as a basement flat, hired for a short term or used as an in-law suite. But often, the construction of the basement arrives with more expenses than the owners anticipate. Beyond all drywall, flooring, and lighting, particular basements need to be rewired to complete, and extra ductwork might also be required. Below are a few basement expenses remodelling ranges as a rough guideline:

Employ a builder to finish the basement from scratch: £39,000—£78,000.

DIY completes the basement from scratch: £12,000 – £19,000.

The contractor employs to build a prefabricated basement finishing system: £39,000 - £69,000.

Home Add-ons

Home additions are one of the most costly improvements possible. They create housing room and efficiency, but often they cost more than they contribute to higher home prices. If you are involved in an extension, imagine the enclosed porches and sunrooms first. Usually, they don't need ductwork, plumbing, or many hardware adjustments.

Enclose the porch: £5,500—£12,000

Attach a sunroom: £12,000 – £18,000 for prefabricated sunrooms, not including design.

Multi-room home addition: £118,000 – £390,000

Labour and Allowances

If you perform the whole renovation of your home yourself, you can bear labour expenses from the builders. One choice to help minimize labour and house repair costs is to employ and supervise professional workers on your own rather than hiring a general contractor and authorize them to employ and supervise specialists on your behalf. E.g., if you're renovating a bathroom, you can hire a plumber for the necessary plumbing work, and an experienced handyman can install new tile flooring and shower tiles. Any of the easy jobs you might perform yourself, such as removing a faucet or a cabinet.

Finally, as you decide how long it takes to renovate a building, bear in mind that you may require a permit for certain remodelling ventures. You can either get the licenses yourself or hire an employee to get them for you. But when you do need permits for renovation, you may need to use approved contractors, so prepare accordingly.

READY TO GET A QUOTE?

Post your job in minutes and get quotes from local and reliable trades.

&copy Copyright 2021 TradesPeopleHub. All Rights Reserved.