It´s effortless to find a trusted tradesperson.
1

Post a job - it´s free

Posting a job is free and only takes a few minutes. We start by asking you questions about the requirement of the job you need doing, such as:
what type of tradesman are you looking to hire
where at your home you want the job doing
detailed description of the work and photos if any
your budget and where is the job located
The information you provided helps us to assign relevant tradesperson in your local area. It also allows the tradespeople to give an accurate quote.
2

Receive quotes

After providing us with your job requirements, our system will automatically match your request to registered tradespeople who will now provide you with quotes, including estimated completion time.
3

Compare quotes

You will receive instant quotes from tradespeople along with their profiles, previous works & feedbacks - log in to your account to review and compare quotes, chat in real-time to ask questions and set timeline.
4

Pick a tradesperson & award the job

After comparing quotes, select and award the job to the best tradesperson you want to carry out the project.
5

Create a milestone

Create a milestone payment, and your tradesman comes to work. Read more about our milestone payment system.
6

Pay when work done

Once the job has been completed to your expectations and your 100% satisfied, pay the tradesman by releasing the milestone.
7

Rate tradesperson work

Rate the tradesperson on their hard work, quality, reliability, and value for your money.
Still not convinced?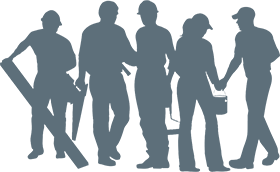 Post your job today and get quotes from trusted, vetted and reviewed tradesmen for any job around your home?
Still not convinced about job posting?
Don´t want to go through the job posting process? Check out the list of our tradesmen and hire directly now
Need More Information
Not sure where to start? Check out frequently asked questions below:
&copy Copyright 2022 TradesPeopleHub. All Rights Reserved.