Find a Bathroom Fitter- A comprehensive Guide on how to find local bathroom fitter at an affordable cost.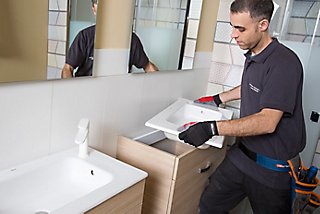 Fitting a new bathroom or refitting an existing one is much work, so it is essential to find an excellent professional bathroom fitter that will advise you on the process and guarantee the quality of their work that they will do. So how do you find a good bathroom fitter?
Why do you need to find a bathroom fitter?
When do you need a bathroom fitter?
What is the work of the bathroom fitter?
How do I find a local bathroom fitter?
Hiring the right bathroom fitter for your project
Define your expectations before finding a bathroom fitter
Search through web directories and bathroom fitting Platforms
What to look out for when reading the profile a bathroom fitter?
How to Avoid Common Bathroom fitting Scams
What does it take to become a bathroom fitter?
What are Bathroom fitter Skills?
How do I request bathroom fitter quotes?
How much does it cost to fit a new bathroom UK?
What can be refitted in a bathroom?
How do you make sure your bathroom fitting quote is correct?
The choices and steps involved in a bathroom fitting are numerous and not always easy to understand. Therefore, it is vital to be well informed about each element and decide to have the work carried out in the ideal possible way. Going through a professional local bathroom fitter guarantees the quality of the work.
Who is a bathroom fitter?
A bathroom fitter is a specialist whose role ranges from advice to the fitting of sanitary ware, plumbing, materials such as tiles, concretes, lighting, furniture and even decoration. They can also provide maintenance and repairs. Usually, both bathroom and kitchen install and fitter work from design to completion A bathroom fitter can thus offer layout plans, orders the materials, organize the site, and fits various bathroom elements (from the toilets to the furniture and finishes).
Why do you need to find a bathroom fitter?
Refitting or creating a bathroom involves a wide variety of skills, both in electricity and plumbing and in tiling, flooring and ventilation. Finding a specialist bathroom fitter who can advise you on a material and equipment's choice according to your needs and possibly optimizing the available space is vital. 
Unless you are a seasoned handyman in all of these areas, it is often essential to hire a professional bathroom fitter since the bathroom is an integral part that the work must carry out as quickly as possible and comply with the UK standards.
The installation of a bathroom should be done so that it will make the room pleasant, functional and comfortable for daily use. It is therefore essential to study the project well before carrying it out. Thus, the intervention of a bathroom fitter is crucial in ensuring that the bathroom is fitted according to the art rules. Finding a trust bathroom fitter will also allow you to realize the bathroom of your dreams in all serenity.
When do you need a bathroom fitter?
Leaking pipes
Often bathrooms are replaced every 20 years on average. In most cases, a renovation work with the existing pipes in the walls and floors. The older the pipe is, the higher the chance of possible leaks. So do some preliminary work and check how long these pipes have been used. 
Leaking gutter or shower drain
You have certainly seen or experienced that the space under the bathroom has a visible leak. Often the shower drain or gutter is insufficiently sealed. Ensuring that the shower drain is appropriately glued and sanded first creates a rough surface so that the grout adheres well during curing. If there is space between the shower drain or shower drain and the underlying construction, it will move during use. The connection with the tiling will rub loose, causing water to find its way into the building. 
Leakage due to poor tiling
Tiling that has been in use for years can never provide a perfect seal. Due to the conditions of temperature and moisture differences, the tiling will regularly shrink and expand. Over time, shrinkage cracks may develop. As a result, moisture behind the tiling makes it challenging to dry. In the long term, this will cause the tiling to detach from the wall. 
Sealant
A common problem is the hardening of sealant edges in the bathroom, and this can create grooves and gutters where water and soap residues remain. With this accumulation, bacteria and fungi are given free rein, and the condition of your sealant work quickly deteriorates.
What is the work of the bathroom fitter?
Bathtub fitting

Tub replacement

Bathtub installation with pipe fitting (acrylic and sheet metal bathtub)

Shower enclosure installation

Cabin replacement

Shower panel installation & replacement

Bathroom refurbishment

New bathroom fitting

Shower fitting

Wet room installation

Toilet fitting

Bathroom replacement

Extractor fan fitting

Bathroom tiling

Installing a mirror

Fitting a cabinet
How do I find a local bathroom fitter?
To find the right bathroom fitter, I advise checking these few points:
The bathroom fitter's professional references, certificates and training, which provide insight on their skills, need to be checked.

The reputation of the bathroom fitter: this criterion ensures that the bathroom installer is reliable and serious. To check reputation, consult his former clients' reviews or ask to see his past achievements.

The bathroom fitter registration: before entrusting the fitting of your bathroom to a professional, you must ensure that it is appropriately registered and vetted. 

Insurance of the bathroom fitter: as a tradesman, the bathroom fitter must have taken out compulsory insurance. It is essential to check this point to make sure it is getting coverage in a problem.

The bathroom fitter's price: the cost of the bathroom fitters varies from one professional to another. It is often higher in the London region.

To find a top bathroom fitter for the job, consider comparing quotes here
Finding a bathroom fitter
Before you get started, you need to prepare a list of the jobs you want to do. What do you want to have in your new bathroom? What works are required? This reflection will allow you to request precise quotes and correctly estimate the cost of the work.
Ask yourself these questions:
Type of work: is it a new bathroom or a renovation? If it is a renovation, is it complete or partial (e.g. only a new shower)?
Style: What style do you want to give to the bathroom: traditional, modern, rustic? Do not hesitate to visit specialized company websites and showrooms to find inspiration.
Timeline: When do you want to complete the work? Are you going to do some work yourself?
Budget: What is your budget? Is it flexible or not?
Technical aspects: should new sanitary facilities be installed (bathtub, shower and sinks), electrical appliances, lighting, ventilation or heating?
Structural aspects: do you want to install a new floor or wall covering? A new ceiling? Change the layout of the bathroom?
Hiring the right bathroom fitter for your project
Once you have a clear idea of what work you want to do, you can start asking bathroom fitters for quotes. A good fitter will examine your project, give you advice and help you make the right choices (equipment, materials, etc.).
You should know that all bathroom installers do not necessarily work the same way. Some offer a complete set of works, while others collaborate with other trades (electricians, heating and engineers) while others are only responsible for small jobs, such as sanitary facilities.
A tip for finding the right bathroom fitter for your project is to compare quotes; this will give you a better idea of all the possibilities. Request and compare quotes from several bathroom fitters by posting your job on https://www.tradespeoplehub.co.uk/Bathroom-Fitter. 
Define your expectations before finding a bathroom fitter
What is a good bathroom fitter for you? The criteria are numerous and different according to your expectations: someone who advises you, who respects the schedules, which is reachable, who is "not expensive", who is fast, reliable, who does a neat job? These are questions to ask yourself before deciding which local bathroom fitter is right for you.
How do you intervene in the choice of products with your bathroom fitter? Do you need one or more bathroom fitter? Plumber, tiler but perhaps also an electrician and mason. How much time can you give to the site, will you be there or several miles away? 
Read reviews vs Word of mouth.
Post your job online on some of the bathroom fitters finding platforms like

https://www.tradespeoplehub.co.uk/Bathroom-Fitter

  and get the professionals to submit quotes. You can read reviews or feedback on what previous homeowners say about working with the bathroom fitting experts on their profiles.

Ask your loved ones: around you, you may know people who have called in a professional to redo their bathroom. Asking them will help find a suitable bathroom artisan.

Ask your tradesperson: do you already have a tradesman? He may be able to recommend a bathroom fitter and put you in contact with a mason or an electrician with whom he will have worked with before.
Search through web directories and bathroom fitting Platforms
Searching through web directories and platforms for finding rated bathroom fitters pages improves your chances of finding a bathroom fitter you can trust. The likelihood of finding a "cowboy" or wanna-be bathroom fitter over there are rare. When browsing, look for authenticity. Always keep your eye on anonymous feedback with a grain of salt, as some of them are unverified. Some of the most famous and credible directories and websites are:
Tradespeoplebub.co.uk: One can post a job and get bathroom fitters to quote you. Read review and profiles and view previous work.

YellowPages.com

Yelp.com 
What to look out for when reading the profile a bathroom fitter?
Your bathroom fitter is a professional, he must be registered in the directory of trades, labelled and certified, and possess a compulsory insurance and guarantees certificate.
Here are some criteria of reliability and seriousness, which are essential in the choice of the bathroom fitter :
respect for deadlines and planning (especially if there are several trades to coordinate)

clear and detailed estimate (precise and explicit) and sent on time

good finishing of the work and cleaning of the site at the end of the day

technical advice and expertise
If it is a multi-job company, do not hesitate to ask how and in what order will the different trades intervene and coordinate?
Do not forget that this is a relationship in which trust and exchanges will be critical throughout the project, and you will be both the owner (client) and the project managee unless you hire a coordinator who will supervise your project. It is necessary to make sometimes available in your schedule to track the project's progress and answer questions if necessary.
How to Avoid Common Bathroom fitting Scams
Unfortunately, there are some rogue bathroom fitter or even just plain fraudsters out there. To avoid falling victim to a bathroom fitting scam, we recommend that you consider using www.tradespeoplehub.co.uk as the users find there are already vetted. The best is that you can pay for your bathroom fitting job through the platform.
What does it take to become a bathroom fitter?
There are many ways one can become a bathroom fitter. One could do a college program or an apprenticeship. In a situation that you have already possess relevant skills or experience, you may be employed by a bathroom fitting employer. Going through this way will help you figure out if a bathroom fitter is what you want to do for a living. 
Even though becoming a bathroom fitter demands educational qualifications, some employers are more interested in someone eager to learn, and follow guidelines. However, a Construction Skills Certification Scheme (CSCS) card may be required to work on a construction site. 
College/ a trainer
College or approved trainers may provide courses which could help you to become a bathroom fitter, such as:
a Level 1 or 2 Certificate in Carpentry and Joinery,

a Level 2 Diploma in Plumbing, or a Level 2 Diploma in Fitted Interiors.
To be admitted into any of the programs you need:
Up to 2 GCSEs (or equivalent) at grades 3 to 1 (D to G) (level 1 course)

2 or more GCSEs (or equivalent) at grades 9 to 3 (A* to D) (level 2 course).
Bathroom fitter Apprenticeship
A bathroom fitting apprenticeship with a construction firm is an optimal route to enter into the industry. Bathroom fitting apprenticeships are available to a person that is over the age of 16. As a bathroom fitter apprentice, you will be fully employed by the firm and assumed to work a minimum of 30 hours per week. The time is usually shared between acquiring on-site experience and going to the training providers to learn the theory.
An intermediate apprenticeship can last up to two years. If you can acquire experience from the job, you could move onto a Level 3 qualification.
One can specialise in bathroom fitting after you have completed an intermediate apprenticeship in fitted interiors, joinery, tiling, plumbing or electrical installations.
GCSEs (including English and maths) or equivalent is needed to do a bathroom fitter apprenticeship; the good news is that not all employers ask for formal qualifications.  
What are Bathroom fitter skills?
Paying attention to details 

Mathematical and logical

Team player

Creativity

Flexibility

Multitask
What can be refitted in a bathroom?
Repaint the wall tiles or the floor
To renovate the bathroom and modernize it without changing the tiling, which would involve breaking it before putting another one, you have the option of simply repainting it. A brushstroke, and it's ready and your bathroom will be transformed.
Install a new floor in the bathroom
Do not underestimate the impact of the appearance of the flooring on the entire room. Often small, bathrooms can get new flooring without breaking the bank. Have you considered PVC flooring? It resists humidity, does not slip, and dries quickly. Its texture is delightful when walking barefoot. The straightforward installation that saves you money on labour. And on the aesthetic side, anything goes! Earthenware effect, natural wood and cement tiles.
Install an extra-flat tray for an Italian shower style
The walk-in shower is the ultra-trendy design of recent years for a modern bathroom. If you want to save work costs, choose an extra-flat tray. You need to install it on the ground to have an open room without hampering light diffusion. But if the inexpensive renovation also limits the trouble, it is often better to have the installation of the shower tray and its connection carried out by a qualified professional.
Makeover session for your furniture!
Replacing or repainting the doors of your bathroom cabinet, changing the curtains, opting for new doorknobs. Your bathroom renovation even becomes fun by selecting a specific doorknob; for example, you create a contemporary bathroom atmosphere.
Select a tap and radiator for less
Anything related to plumbing can benefit from small budget savings. However, these are central elements that must be chosen and laid with care. A problem with the faucet, the radiator, or even a bathtub can turn out to be catastrophic. Nothing is more annoying than having to replace your equipment or heating installation barely two years after its installation. For a cheaper option keep an eye on promotions on well-known brands on Amazon or eBay.
A shower curtain that makes all the difference
To prevent splashing in the room, the shower curtain and glass shower screen are bathroom must-haves. Get a fancy curtain, or on the contrary, sober and bright for a minimalist bathroom.
Experiment with various paint colours
A new coat of paint can make a huge difference: you have the choice between brightening the walls or painting your furniture and accessories. Stick to white for the ceiling because it makes the bathroom look larger, while satin and eggshell finishes are good bathrooms choices. They are easy to clean and do not show imperfections on the walls. Paint stores and home improvement centres sell paint samples, so you can test a colour before you paint your bathroom. A test sample allows you to see the actual colour on your walls and saves you from misperceiving the colour.
Hang your towels with hooks
Installing hooks instead of towel bars helps you keep your bathroom organized. They are super easy to use, especially for children, that towels do not end up on the floor. Besides, you can fit multiple hooks and hang more towels, in the space occupied by a single towel bar. Don't worry; your towels will dry out. Hooks have this name in some home improvement centres and are referred to as coat hooks.
Give more shine to your bathroom.
Is your bathroom deprived of natural sunlight because it has no windows? It does not matter. You can add sparkle to your bathroom by choosing the colours of it wisely and the type of lighting that prevails in it.
Light colours such as bright white on the walls or bright yellowish tones will liven up your hygiene space. The style of light in your bathroom also plays a significant role. Go for bulbs that mimic natural light. Their colour Rendering Index (CRI) must then be at least 90.
A greener toilet for more savings
Save money each time you flush the toilet by placing a plastic bottle in the toilet tank that you will have a prior filled with sand or stones. By mimicking a heavyweight, this bottle requires less water in the tank each time it is filled. However, this does not affect the ability of your toilet to evacuate the natural deposits therein properly. Quite only, fewer litres of water will be needed to rinse your bowl. A gesture that is also beneficial for the environment. With a traditional tank, older toilets mobilize up to 20 litres of water each time you flush.
A wooden ladder for your wet clothes
A rustic wooden ladder in your bathroom will allow you to spread your wet towels and washcloths on it. The wooden ladder is a better alternative than the metal bar where your shower curtain hangs. Indeed, by dint of putting wet cloths on it, this bar how to oxidize over time.
Round shelves for storage in your bathroom
Opting for a wooden ladder and round shelves rather than a cloth dryer and a horizontal shelves for a change, these are unusual but can add an original touch to your bathroom. You can even divide the circular shelf space into four by placing two small wooden planks that fit together in the middle to form a cross. You will therefore have four boxes to place the objects of your choice. For example, let's go for toilet paper in one, washcloths wrapped soaps and your hairbrush in the other three.
The top of the bathroom door: a space to exploit
Are you running out of space in your bathroom and you need to put specific objects on a shelf? Think about taking up the space that few people use: the place just above the bathroom door. And yes, it sounds unusual, but this space can be useful, especially since it offers absolute security. Think of the products that you will want to keep out of the reach of children.
Change the bathtub or restore its image.
Before removing your tub from your bathroom, check if it is possible to refresh its look. It could save you hundreds of pounds. Is it strewn with scratches? Does it lack sparkle? You can enhance the shine of your bathtub by deciding to repaint it.
You necessarily need a paint that applies well to the surface of a bathtub and which resists well in a humid environment. To choose a paint that will do the job well, ask a representative of the store of your choice for advice. Also, make sure that the first coat of paint is epoxy resin-based, this will allow the top and decorative colour coat to hold better.
Give your old faucets a makeover.
New plumbing fixtures give a shower a new look in the blink of an eye. Use a shower kit when replacing your mixer tap. These home improvement kits contain everything you need: a new handle and wall plate to enhance the look of your faucet while leaving the old valve in place. Make sure you buy items from the same brand as your existing faucet. Some models are available at home improvement centres. If you don't see your brand, contact your faucet manufacturer to find out where to find it. Kits are available for mixing valves only. To change from a two-handle faucet to a mixing tap, install a shower cover plate (also called a "reshaping" plate). The plate covers the openings, so you don't have to install a tile to patch.
Frame your bathroom mirror
A mosaic or wood frame adds style to a regular mirror. Any tile will do (we used a glass tile mosaic). Glue the tiles to the wall using adhesive putty. Apply masking tape to the mirror and use unsanded grout to avoid scratching the mirror. You can also buy a wood mirror frame from a picture framing store or a wood moulding with a rebate cut on the back and build your structure. Paint or stain the frame before installation. A third option is Moen's mirror framing system. "A-frame makes the mirror a vital element of the decor and dresses the room.
Install a curved shower curtain rod
Besides adding elegance to your bathroom with its gentle curve, a curved shower curtain rod gives you more freedom in the shower. You can use your current shower curtain or buy a new one and get rings in the same finish as the rod to complete the new look. "Installing a shower curtain rod, instead of glass doors, is a great way to save money.
How much does it cost to fit a new bathroom UK?
Price of fitting a bathroom
The budget for fitting a bathroom varies from one project to another. In general, it mainly consists of the bathroom's price and the labour cost of the bathroom fitter. If you want to estimate the expenses to be allocated to the bathroom installation, remember to inform yourself on these two points.
Price of the bathroom
The bathroom's price depends on the choice of model ( bathroom with walk-in shower, bathroom with bathtub) and the elements that make up the room. It is, therefore, difficult to give a precise estimate. You can, however, refer to the average cost of a bathroom. Note that on average, the price of a bathroom with an Italian shower is between £2,500 and £8,000.
Fee for fitting a bathroom
The installation of a bathroom goes through several stages. Much work is often necessary to fit the various equipment, the connection, the different structures, and the room's arrangement. On average, the cost of providing a complete Italian bathroom is between £2,000 and £5,000.
The price of installing a bathroom varies depending on several parameters. To establish his estimate, the bathroom fitter will mainly take into account:
The surface area of the bathroom: the cost of fitting a bathroom is often estimated per m². The area of the room will then naturally influence the budget to be planned for its realization. The larger the room to be created, the lower the cost of fitting a bathroom per m².

The work to be carried out: installation of sanitary facilities, installation of the shower or the bathtub, installation of various equipment, electrical installations, plumbing work, installation of the floor covering, connection to the network, installation of heating, modification of the volume of the room, installation of partitions, finishing work, fitting out the bathroom.

Accessibility of the water network: this criterion will determine the difficulty of the connection works. It will then influence the cost of the work.

Equipment to be fitted: the number and type of equipment to be fitted will affect the work's budget. Some models are more challenging to install than others and may require additional work.

The flooring type to be installed: the installation of a bathroom involves laying the flooring and walls. Most often, it is tiling. It is also possible to choose parquet or waxed concrete. The cost of installing these coatings is different.

Any removals to be made: as part of a renovation, installing a bathroom involves various removal and replacement work. The cost of these services should not be overlooked. To find out what budget to plan to redo your bathroom check

here

. 
How do I request bathroom fitter quotes?
1st step: Request quotes
If you want to find the right installer to carry out your bathroom project, you better compare. Do not hesitate to ask for quotes from several installers. When requesting a quote, explain your situation and requirements as clearly as possible. If your request is specific, the installer can respond to you with a particular offer.
2nd step: Meeting and discussion of the project
The installer will then contact you to make an appointment with you or in his store. The aim is to discuss the project, the possibilities, the deadlines.
3rd step: Quote: After the appointment, it's up to the installer to get to work and prepare the first estimate based on your discussion with them.
4th step: compare the quotes and decide on one
Once you have received several quotes, it's up to you to compare! What are the things to consider when comparing quotes? As soon as you have made your choice, you can contact the fitter and give him your consent.
5th step: start of work
Finally, the installer comes to your home to start the bathroom work. It often takes a few months between the agreement and the start of work. Make sure you agree with the installer regarding the start and end dates of the work.
How do you make sure your bathroom fitting quote is correct?
Every detail counts. To be confident about the estimate given by your bathroom fitters, make sure that each lot is detailed: electricity, plumbing, flooring, wall, toilets and shower. 
Pay attention to the comparison of quotes
.
Beware of substantial price differences. When you compare quotes, and a quote stands out with a more attractive price? Warning. A price that is too low will inevitably hide screws: poor product quality, inadequate monitoring of DTU (Unified Technical Documents), worksite finishes.
Compare what is comparable. We tend to only take into account the price when comparing several quotes. Be careful to compare the services provided: does the cheapest professional deliver the materials? Is it applying two coats of paint in the Paint bundle? Does it offer the same guarantees in the event of a problem? The quality of the service has its advantage over the price.
Takeaways
Since a bathroom is one of the essential rooms in a house and plays a vital role in feeling comfort at your home, finding a professional bathroom fitter to guarantee their work quality becomes crucial. In this guide, we discuss how and where to find bathroom fitter and how to choose one. The precautions to be taken and legal obligations. We tell you everything about how to proceed to use a bathroom fitter and enjoy it in peace.